The Hotel de France At The Centre Français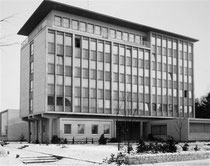 The Hotel de France isn't a hotel like any other, it is strongly related to the Centre Francais in Berlin and to Berlin's history.
The Centre Francais de Berlin was founded by the French allied-administration in 1961 in order to foster the knowledge of the French culture and language among the population in the French sector (Wedding and Reinickendorf). It became a meeting place for French people and frankophile Berliners for more than 40 years.
The hotel was mainly used by young soldiers stationed in Western Germany and by families of soldiers based in Berlin, who where in Berlin for short visit. Furthermore many groups of scholars, students and athletes who visited Berlin for  informational purposes or exchange programs with Berlin schools stayed in multi-share rooms.

After the allied forces left Berlin in 1994 the Centre Francais was closed down for 3 years - followed by the foundation of a non-profit organization in 1997, authorized and supported by the French Republic and the Federal Republic of Germany. The governmental organizations are the German Foundation Social Educational  Institute Berlin (SPI) and the Centre d'Echanges Internationaux (CEI) in Paris. To continue the Centre Francais in line with the European Unions'  spirit as well as the German-French bond of friendship was of utmost interest to the French Republic and the Federal Republic of Germany.
Nowadays the building complex is a listed monument, consisting of The Hotel de France, a French restaurant, a theatre/cinema and various conference rooms.